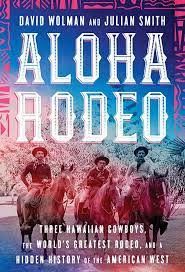 ALOHA RODEO
Oregon Book Award winner * An NPR Best Book of the Year * Pacific Northwest Book Award finalist * A Reading the West Book Awards finalist
"Groundbreaking. … A must-read. … An essential addition." —True West
The triumphant true story of the native Hawaiian cowboys who crossed the Pacific to shock America at the 1908 world rodeo championships.
In August 1908, three unknown riders arrived in Cheyenne, Wyoming, their hats adorned with wildflowers, to compete in the world's greatest rodeo. Steer-roping virtuoso Ikua Purdy and his cousins Jack Low and Archie Ka'au'a had travelled 4,200 miles from Hawaii, of all places, to test themselves against the toughest riders in the West. Dismissed by whites, who considered themselves the only true cowboys, the native Hawaiians would astonish the country, returning home champions—and American legends.
An unforgettable human drama set against the rough-knuckled frontier, David Wolman and Julian Smith's Aloha Rodeo unspools the fascinating and little-known true story of the Hawaiian cowboys, or paniolo, whose 1908 adventure upended the conventional history of the American West.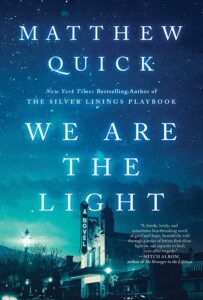 WE ARE THE LIGHT
"A treasure of a novel…read it and be healed." —Justin Cronin * "Beautifully written and emotion-packed." —Harlan Coben
From the New York Times bestselling author of The Silver Linings Playbook—made into the Academy Award–winning movie starring Jennifer Lawrence and Bradley Cooper—a poignant and hopeful novel about a widower who takes in a grieving teenager and inspires a magical revival in their small town.
Lucas Goodgame lives in Majestic, Pennsylvania, a quaint suburb that has been torn apart by a recent tragedy. Everyone in Majestic sees Lucas as a hero—everyone, that is, except Lucas himself. Insisting that his deceased wife, Darcy, visits him every night in the form of an angel, Lucas spends his time writing letters to his former Jungian analyst, Karl. It is only when Eli, an eighteen-year-old young man whom the community has ostracized, begins camping out in Lucas's backyard that an unlikely alliance takes shape and the two embark on a journey to heal their neighbors and, most importantly, themselves.
From Matthew Quick, whose work has been described by the Boston Herald as "like going to your favorite restaurant. You just know it is going to be good," We Are the Light is "a testament to the broken and the rebuilt" (Booklist, starred review). The humorous, soul-baring story of Lucas Goodgame offers an antidote to toxic masculinity and celebrates the healing power of art. In this unforgettable and optimistic tale, Quick reminds us that life is full of guardian angels.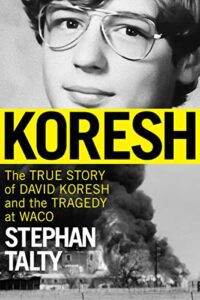 KORESH
"Impressively researched and written with storytelling verve. … Talty delves the deepest into the history and twisted personality of David Koresh." —Wall Street Journal
The first comprehensive account of David Koresh's life, his road to Waco, and the rise of government mistrust in America, from a master of narrative nonfiction
No other event in the last fifty years is shrouded in myth like the 1993 siege of the Branch Davidians in Waco, Texas. Today, we remember this moment for the 76 people, including 20 children, who died in the fire; for its inspiration of the Oklahoma City bombing; and for the wave of anti-government militarism that followed. What we understand far less is what motivated the Davidians' enigmatic leader, David Koresh.
Drawing on first-time, exclusive interviews with Koresh's family and survivors of the siege, bestselling author Stephan Talty paints a psychological portrait of this infamous icon of the 1990s. Born Vernon Howell into the hyper-masculine world of central Texas in the 1960s, Koresh experienced a childhood riven with abuse and isolation. He found a new version of himself in the halls of his local church, and love in the fundamentalist sect of the Branch Davidians. Later, with a new name and professed prophetic powers, Koresh ushered in a new era for the Davidians that prized his own sexual conquest as much as his followers' faith. As one survivor has said, "What better way for a worthless child to feel worth than to become God?"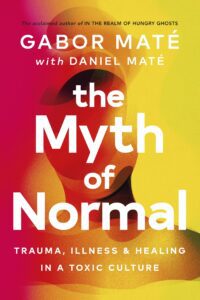 THE MYTH OF NORMAL
The instant New York Times bestseller
In this revolutionary book, renowned physician Gabor Maté eloquently dissects how in Western countries that pride themselves on their healthcare systems, chronic illness and general ill health are on the rise. Nearly 70 percent of Americans are on at least one prescription drug; more than half take two. In Canada, every fifth person has high blood pressure. In Europe, hypertension is diagnosed in more than 30 percent of the population. And everywhere, adolescent mental illness is on the rise. So what is really "normal" when it comes to health?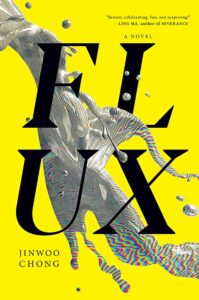 FLUX
"Flux happily offers a moving appraisal of lives buffeted by personal and systemic traumas; a deep dive into the good, the bad and the ugly of self-serving corporate culture; and no shortage of "wait, what the heck just happened?" thrills." — The New York Times Book Review
"Brazen, exhilarating, fun, and surprising! I couldn't predict where this novel was going, but I was definitely along for the ride." — Ling Ma, author of Severance
A blazingly original and stylish debut novel about a young man whose reality unravels when he suspects his mysterious employers have inadvertently discovered time travel—and are using it to cover up a string of violent crimes . . .
Four days before Christmas, 8-year-old Bo loses his mother in a tragic accident, 28-year-old Brandon loses his job after a hostile takeover of his big-media employer, and 48-year-old Blue, a key witness in a criminal trial against an infamous now-defunct tech startup, struggles to reconnect with his family.
So begins Jinwoo Chong's dazzling, time-bending debut that blends elements of neo-noir and speculative fiction as the lives of Bo, Brandon, and Blue begin to intersect, uncovering a vast network of secrets and an experimental technology that threatens to upend life itself. Intertwined with them is the saga of an iconic '80s detective show, Raider, whose star actor has imploded spectacularly after revelations of long-term, concealed abuse.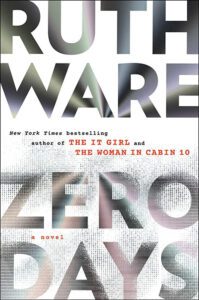 ZERO DAYS
Under option to NBC Universal
The New York Times bestselling "new Agatha Christie" (Air Mail) Ruth Ware returns with this adrenaline-fueled thriller that combines Mr. and Mrs. Smith with The Fugitive about a woman in a race against time to clear her name and find her husband's murderer.
Hired by companies to break into buildings and hack security systems, Jack and her husband, Gabe, are the best penetration specialists in the business. But after a routine assignment goes horribly wrong, Jack arrives home to find her husband dead. To add to her horror, the police are closing in on their suspect—her.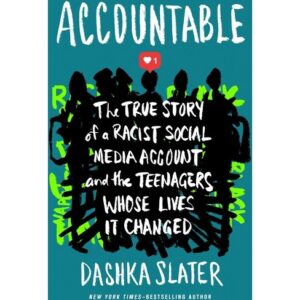 ACCOUNTABLE
From the New York Times-bestselling author of The 57 Bus comes Accountable, a propulsive and thought-provoking new young adult narrative nonfiction book about the revelation of a racist social media account that changes everything for a group of high school students and begs the question: What does it mean to be held accountable for harm that takes place behind a screen?
When a high school student started a private Instagram account that used racist and sexist memes to make his friends laugh, he thought of it as "edgy" humor. Over time, the edge got sharper. Then a few other kids found out about the account. Pretty soon, everyone knew.
Ultimately no one in the small town of Albany, California, was safe from the repercussions of the account's discovery. Not the girls targeted by the posts. Not the boy who created the account. Not the group of kids who followed it. Not the adults—educators and parents—whose attempts to fix things too often made them worse.
In the end, no one was laughing. And everyone was left asking: Where does accountability end for online speech that harms? And what does accountability even mean?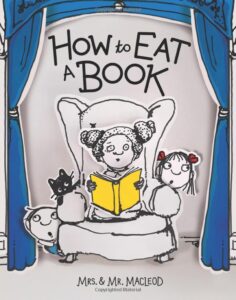 HOW TO EAT A BOOK
A whimsical picture book for kids written by debut wife and husband team Mrs. & Mr. MacLeod, children's book authors and artists. This irresistible book about books—and the way they make us feel—is set in a world bursting with charm and character. How to Eat a Book is destined to be a favorite read-aloud book for kids, families, librarians, booksellers, and educators.
Sheila sat down to eat her first book and the strangest thing happened . . . The book ate HER. One by one, cousins Sheila, Gerald, and Geraldine Grunion are eaten . . . by their books. This peculiar turn of events flings them far and wide. Sheila escapes the weight of the world entirely, while Gerald braves the wonder of seeing it up close. And Geraldine, well, Geraldine turns as terrifically terrible as she possibly can. Join the Grunions on adventures no child can resist!'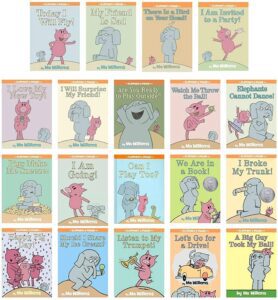 ELEPHANT & PIGGIE Series
"Willems manages to hit that singular moment where even the most restrained readers can't help but bark out a laugh."—BCCB
"These masterful mini-dramas will delight and amuse easy-reader and picture-book audiences, alike."—School Library Journal
Gerald is careful. Piggie is not.
Piggie cannot help smiling. Gerald can.
Gerald worries so that Piggie does not have to.
Gerald and Piggie are best friends.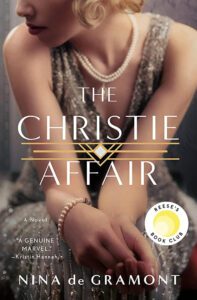 THE CHRISTIE AFFAIR
"Sizzles from its first sentence." – The Wall Street Journal
A Reese's Book Club Pick
In 1925, Miss Nan O'Dea infiltrated the wealthy, rarefied world of author Agatha Christie and her husband, Archie. In every way, she became a part of their life––first, both Christies. Then, just Archie. Soon, Nan became Archie's mistress, luring him away from his devoted wife, desperate to marry him. Nan's plot didn't begin the day she met Archie and Agatha.
It began decades before, in Ireland, when Nan was a young girl. She and the man she loved were a star-crossed couple who were destined to be together––until the Great War, a pandemic, and shameful secrets tore them apart. Then acts of unspeakable cruelty kept them separated.
What drives someone to murder? What will someone do in the name of love? What kind of crime can someone never forgive? Nina de Gramont's brilliant, unforgettable novel explores these questions and more.