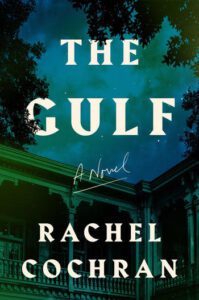 THE GULF
Optioned to Fox
"Exquisite and gripping. . . . The Gulf is a page turner to be savored; Cochran is a master of both prose and plot."—Ilana Masad, author of All My Mother's Lovers
In Parson, Texas, a small town ravaged by a devastating hurricane and the Vietnam War, twenty-nine-year-old Lou is diligently renovating a decaying old mansion for Miss Kate, the elderly neighbor who has always been like a mother to her. Mourning her brother's death in Vietnam, Lou dreams of enjoying a more peaceful future in Parson. But those hopes are crushed when Miss Kate is murdered, and no one but Lou seems to care about finding the killer.
The situation becomes complicated when Joanna, Miss Kate's long-estranged daughter and Lou's first love, arrives in Parson—not to learn more about her mother's death but for the house. Her arrival unearths sinister secrets involving the history of the town and its residents . . . revelations that may be the key to helping Lou discover the truth about Miss Kate's death and her killer.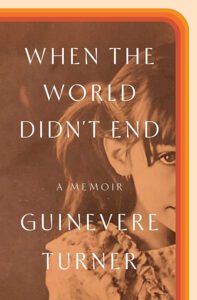 WHEN THE WORLD DIDN'T END: A MEMOIR
In this immersive, spell-binding memoir, an acclaimed screenwriter tells the story of her childhood growing up with the infamous Lyman Family cult—and the complicated and unexpected pain of leaving the only home she'd ever known
On January 5, 1975, the world was supposed to end. Under strict instructions, six-year-old Guinevere Turner put on her best dress, grabbed her favorite toy, and waited with the rest of her community for salvation—a spaceship that would take them to live on Venus. But the spaceship never came.
Guinevere did not understand that her family was a cult. She spent most of her days on a compound in Kansas, living apart from her mother with dozens of other children who worked in the sorghum fields and roved freely through the surrounding pastures, eating mulberries and tending to farm animals. But there was a dark side to this bucolic existence. Guinevere was part of the Lyman Family, a secluded cult spearheaded by Mel Lyman, a self-proclaimed savior, committed to isolation from a World he declared had lost its way. When Guinevere caught the attention of Jessie, the woman everyone in the Family called the Queen, her status was elevated—suddenly she was traveling with the inner circle among communities in Los Angeles, Boston, and Martha's Vineyard.
But before long, the life Guinevere had known ended. Her mother, from whom she had been separated since age three, left the Family with another disgraced member, and Guinevere and her four-year-old sister were forced to leave with them. Traveling outside the bounds of her cloistered existence, Guinevere was thrust into public school for the first time, a stranger in a strange land wearing homemade clothes, and clueless about social codes. Now out in the World she'd been raised to believe was evil, she faced challenges and horrors she couldn't have imagined.
Drawing from the diaries that she kept throughout her youth, Guinevere Turner's memoir is an intimate and heart-wrenching chronicle of a childhood touched with extraordinary beauty and unfathomable ugliness, the ache of yearning to return to a lost home—and the slow realization of how harmful that place really was.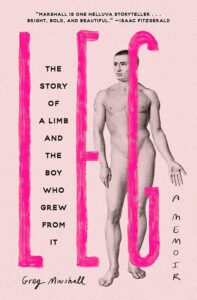 LEG: THE STORY OF A LIMB AND THE BOY WHO GREW FROM IT
A hilarious and poignant memoir grappling with family, disability, and coming of age in two closets—as a gay man and as a man living with cerebral palsy
"One hell of an entertaining book." —BUZZFEED, Most Anticipated LGBTQ+ Books of 2023
"Laugh-out-loud funny. Greg Marshall is one helluva storyteller." —ISAAC FITZGERALD, New York Times bestselling author of Dirtbag, Massachusetts
"A strange, smutty, hilarious, beautiful, compassionate, provoking, big-hearted, sharp-tongued, original, brilliant memoir. I hated to see it end." ―ELIZABETH McCRACKEN, National Book Award finalist and author of The Hero of This Book
Greg Marshall's early years were pretty bizarre. Rewind the VHS tapes (this is the nineties) and you'll see a lopsided teenager limping across a high school stage, or in a wheelchair after leg surgeries, pondering why he's crushing on half of the Utah Jazz. Add to this home video footage a mom clacking away at her newspaper column between chemos, a dad with ALS, and a cast of foulmouthed siblings. Fast forward the tape and you'll find Marshall happily settled into his life as a gay man only to discover he's been living in another closet his whole life: He has cerebral palsy, a diagnosis that has been kept from him since birth. (His parents always told him he just had "tight tendons" and left it at that.) Here, in the hot mess of it all, lies Greg Marshall's wellspring of wit and wisdom.
Leg is an extraordinarily funny and insightful memoir from a daring new voice. Packed with outrageous stories of a singular childhood, it is also a startlingly original examination of what it means to transform when there are parts of yourself you can't change, a moving portrait of a family in crisis, and a tale of resilience of spirit. In Marshall's deft hands, we see a story both personal and universal—of being young and wanting the world, even when the world doesn't feel like yours to want.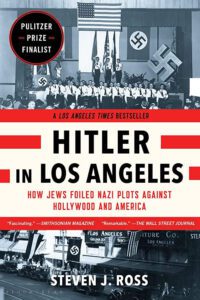 HITLER IN LOS ANGELES: HOW JEWS FOILED NAZI PLOTS AGAINST HOLLYWOOD AND AMERICA
A 2018 FINALIST FOR THE PULITZER PRIZE
The chilling, little-known story of the rise of Nazism in Los Angeles, and the Jewish leaders and spies they recruited who stopped it.
No American city was more important to the Nazis than Los Angeles, home to Hollywood, the greatest propaganda machine in the world. The Nazis plotted to kill the city's Jews and to sabotage the nation's military installations: plans existed for hanging twenty prominent Hollywood figures such as Al Jolson, Charlie Chaplin, and Samuel Goldwyn; for driving through Boyle Heights and machine-gunning as many Jews as possible; and for blowing up defense installations and seizing munitions from National Guard armories along the Pacific Coast.
U.S. law enforcement agencies were not paying close attention–preferring to monitor Reds rather than Nazis–and only Leon Lewis and his daring ring of spies stood in the way. From 1933 until the end of World War II, attorney Leon Lewis, the man Nazis would come to call "the most dangerous Jew in Los Angeles," ran a spy operation comprised of military veterans and their wives who infiltrated every Nazi and fascist group in Los Angeles. Often rising to leadership positions, this daring ring of spies uncovered and foiled the Nazi's disturbing plans for death and destruction.
Featuring a large cast of Nazis, undercover agents, and colorful supporting players, Hitler in Los Angeles, by acclaimed historian Steven J. Ross, tells the story of Lewis's daring spy network in a time when hate groups had moved from the margins to the mainstream.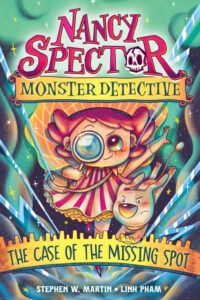 NANCY SPECTOR, MONSTER DETECTIVE 1: THE CASE OF THE MISSING SPOT
Intrepid eight-year-old detective Nancy Spector and her talking dog, Jinx, search high and low for an invisible dog in this laugh-a-minute, fast-paced graphic novel perfect for fans of Dungeon Critters and The Mighty Jack.

The Invisible Man has a problem. His dog, Spot, is missing. Complicating matters, Spot is also invisible. So the Invisible Man turns to Nancy Spector for help. Nancy eagerly takes the case, and she and her grumpy best friend, a (visible) dog named Jinx, dive into the investigation.
As they follow Spot's trail, they find themselves:
Riding dragons
Searching the monster diner—because all dogs like hot dogs
Fleeing from vicious chipmunk unicorns
Shopping in a store that is a gelatinous candy cube named Bob
And paying a visit to Nancy's vampire friend Eugene's hamster's funeral
Every time they think Spot is right around the corner, things get more and more confusing, but Nancy knows that to a great detective, there is no such thing as a bad clue. And Nancy knows she's a great detective. Now she just needs to crack the case. . .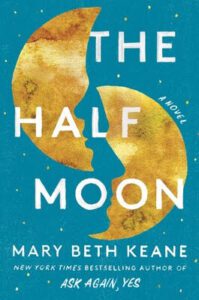 THE HALF MOON
Named a Most Anticipated Book of the Year by Vogue, Entertainment Weekly, BookPage, LitHub and more
"I adored this compelling, touching, exquisitely crafted story about a marriage in crisis." —Liane Moriarty, New York Times bestselling author of Big Little Lies
From the bestselling author of Ask Again, Yes, a masterful novel about a couple in a small town who must navigate the complexities of marriage, family, and longing.
Malcolm Gephardt, handsome and gregarious longtime bartender at the Half Moon, has always dreamed of owning a bar. When his boss finally retires, Malcolm stretches to buy the place. He sees unquantifiable magic and potential in the Half Moon and hopes to transform it into a bigger success, but struggles to stay afloat.
His smart and confident wife, Jess, has devoted herself to her law career. After years of trying for a baby, she is facing the idea that motherhood may not be in the cards for her. Like Malcolm, she feels her youth beginning to slip away and wonders how to reshape her future.
Award-winning author Mary Beth Keane's new novel takes place over the course of one week when Malcolm learns shocking news about Jess, a patron of the bar goes missing, and a blizzard hits the town of Gillam, trapping everyone in place. With a deft eye and generous spirit, Keane explores the disappointments and unexpected consolations of midlife, the many forms forgiveness can take, the complicated intimacy of small-town living, and what it means to be a family.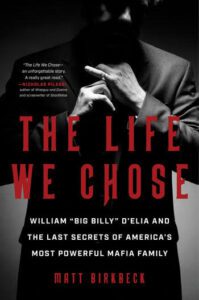 THE LIFE WE CHOSE
"The Life We Chose—an unforgettable story. A really great read." —Nicholas Pileggi, author of Wiseguy and Casino and screenwriter of Goodfellas
From Matt Birkbeck—investigative journalist and executive producer of Netflix's #1 movie Girl in the Picture—a revelatory father/surrogate son story that takes readers deep inside the inner workings of the mob through the eyes of William "Big Billy" D'Elia, the right-hand man to legendary mafia kingpin Russell Bufalino, who ran organized crime in the US for more than fifty years.
William "Big Billy" D'Elia is Mafia royalty.
The "adopted" son of legendary organized crime boss Russell Bufalino, for decades D'Elia had unequaled access to the man the FBI and US Justice Department considered one of the leading organized crime figures in the United States. But the government had no real idea as to the breadth of Bufalino's power and influence—or that it was Bufalino, from his bucolic home base in Pittston, Pennsylvania, who reigned over the five families in New York and other organized crime families throughout the country.
For nearly thirty years, D'Elia was at Bufalino's side, and "Russ's son" was a witness and participant to major historical events that have stymied law enforcement, perplexed journalists, and produced false and wild narratives in books and movies—not the least of which being the infamous disappearance of union boss Jimmy Hoffa. In addition, their reach was illustrated by their relationships with Frank Sinatra, Marlon Brando, Michael Jackson, Suge Knight, and many other celebrities and personalities.
D'Elia became the de facto leader of the Bufalino family upon Russell Bufalino's imprisonment in 1979, and he officially took control upon Bufalino's death in 1994 until his arrest in 2006, when he was charged with money laundering and the attempted murder of a witness. He pled guilty to money laundering and witness tampering and was released from federal prison in 2012.
Candid and unapologetic, D'Elia is finally ready to reveal the real story behind the myths and in so doing paints a complicated, compelling, and stunning portrait of crime, power, money, and finally, family.